SNOWMOBILER ACTION ALERT!!
It has never been more critical to support organized snowmobiling.
Latest News
In our continued effort to educate the snowmobiling community on the latest issues, we encourage you to read the latest news headlines below and browse both our news & events area for a complete list plus read through our snowmobiling facts collection.
Yellowstone Winter Season Begins December 15
ACSA Members Save 10% at Motel 6!
Do you know the organizations your favorite brands support? You should!!
Test Results Released on E-15 Fuel Impact on Snowmobiles
Forest Service Rule Would Allow for Expedited Trail Removal – McClintock Amendment Would Ensure Accountability
Coalition for Recreational Trails Dominates DOT Strategic Planning Process
New Yellowstone Winter Use Plan Signed
Support Snowmobiling by Becoming a Friend of ACSA
International Snowmobile Hall of Fame Announces New Inductees
Floe's Growth Allows for new Plant Diversification
Winter Wildlands Alliance v. U.S. Forest Service
Frequently Asked Questions About the Final Winter Use Plan
Yamaha unveils Arctic Cat Snowmobile Partnership
Motorized use of Two Ocean Mountain Winter Recreation Area Favored by big Crowd at Dubois hearing
---
ACSA Raffle Information and Results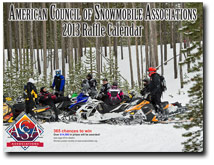 Information on the
ACSA 2014 Calendar Raffle
ACSA 2013 Calendar Raffle Winners!