NEWS & OPINION


Bob Linn Named ACSA Snowmobiler of the Year
Posted: 8/13/2012

Congratulations to Robert (Bob) Linn of Waterville, MN for being awarded the American Council of Snowmobile Associations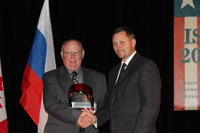 2012 Snowmobiler of the Year for his exemplary dedication to the sport of snowmobiling. His passion for snowmobiling and trails and extensive involvement in the sport has afforded him this honor. Bob received his award at the International Snowmobile Congress in Sturbridge, Massachusetts.

Bob has been involved in snowmobiling since 1976. Teaching young snowmobilers about the safe operation of snowmobiles has been a priority for Bob and his wife, Marie for 32 years and in 2008 they were recognized as Minnesota DNR"s Snowmobile Safety Instructor of the Year.

Bob has held positions in MnUSA for 21 years, 10 of those years on the MnUSA Executive Board, serving as MnUSA's president, vice president, and secretary. He has worked the MnUSA membership booth at events, Chaired and served on various committees and has attended almost every MnUSA event. While on MnUSA's executive board Bob served 9 years as delegate to the American Council of Snowmobile Associations and was instrumental in standardizing the hand signals we use today.

Besides his involvement in MnUSA, Bob is starting his 12th year as Club President of the Sakatah Trail Sno-Cruisers and is Co-Waterville Trail Director for LeSueur County Snowmobile Trails Association where he also works on their annual fundraisers. He hosted Cat's Pride Trail Rides for 16 years including other rides across the west. His current project as MnUSA Region 5 Lead Director is increasing club membership and he has been working with Waseca County to get their clubs and county association going again, adding 70 new members to the clubs and MnUSA.

Bob belongs to the Sakatah Trail Sno-Cruisers, LeSueur County Snowmobile Trails Association, Minnesota United Snowmobiler Association and Association of Wisconsin Snowmobile Clubs.

For more information about this prestigious ACSA Dealer of the Year award, contact Christine Jourdain at the American Council of Snowmobile Associations or visit www.mnsnowmobiler.org for additional information.
---