NEWS & OPINION


Arctic Cat, Polaris and Yamaha to introduce 2012 models.
Posted: 3/7/2011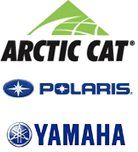 In a series of 22 locations across the snowbelt, Arctic Cat, Polaris and Yamaha will debut a "Sneak Peek" at their new models for 2012. Each manufacturer will display 15-18 sleds. That's 50+ new snowmobiles on one show floor all at the same time. Outdoor events may have an admission charge and show times will follow that event's schedule. Indoor events are from 4-9:00 PM with free admission. Snowmobilers can see, touch, sit on and inspect the sleds that will be at their dealer in the fall. Also, final decisions on taking advantage of the special incentives offered during the spring buying programs can be made with first hand inspection of the various models. The schedule is:
Eastern Tour dates
Colebrook, NH
SnoDeo grounds
March 4-5
Augusta, ME
Augusta Civic Center ***
March 8
Old Forge, NY
SnoFest grounds
March 11-13
Syracuse, NY
NY State Fairgrounds
March 15
Lake Geneva, WI
Geneva Grand Resort
March 18-20
Grand Rapids, MI
Delta Plex
March 22
Allentown, PA
Agri-Plex at Fairgrounds
March 25
Manchester, NH
Radisson Hotel
March 28
Buffalo, NY
Erie Co. Fairgrounds
March 30
Novi, MI
Suburban Collection Showplace*
April 2
Green Bay, WI
Shopko Hall
April 6
Minneapolis, MN
Earle Brown Center**
April 9-10
Stevens Point, WI
Holiday Inn
April 16
Western Tour dates
West Yellowstone
Expo Center
March 11-13
Denver, CO
Merchandise Mart
March 15
Layton, UT
Davis Conference Center
March 21
Jackson Hole, WY
Hill Climb
March 24-27
Boise, ID
Expo Idaho
March 31
Spokane, WA
County Fair Expo
April 4
Puyallup, WA
Puyallup Fair & Event Ctr.
April 6
Fargo, ND
Fargo Dome
April 13


* formerly Rock Financial Showplace
** show hours: Sat: 2 - 8:00 PM Sun: Noon - 5:00 PM
***show hours: 7-10:00 pm.
For more information on the Sneak Peek tours call Leisure Features, Inc. 800-746-8963.
---